A delicious Thanksgiving Stuffing packed with the perfect combination of herbs and ingredients. #NationalStuffingDay
As you plan your Thanksgiving menu, this simple Thanksgiving dressing is a must have on the table! I love wild rice salad, these crockpot potatoes au gratin, roasted vegetables, and a crockpot turkey to go along with it!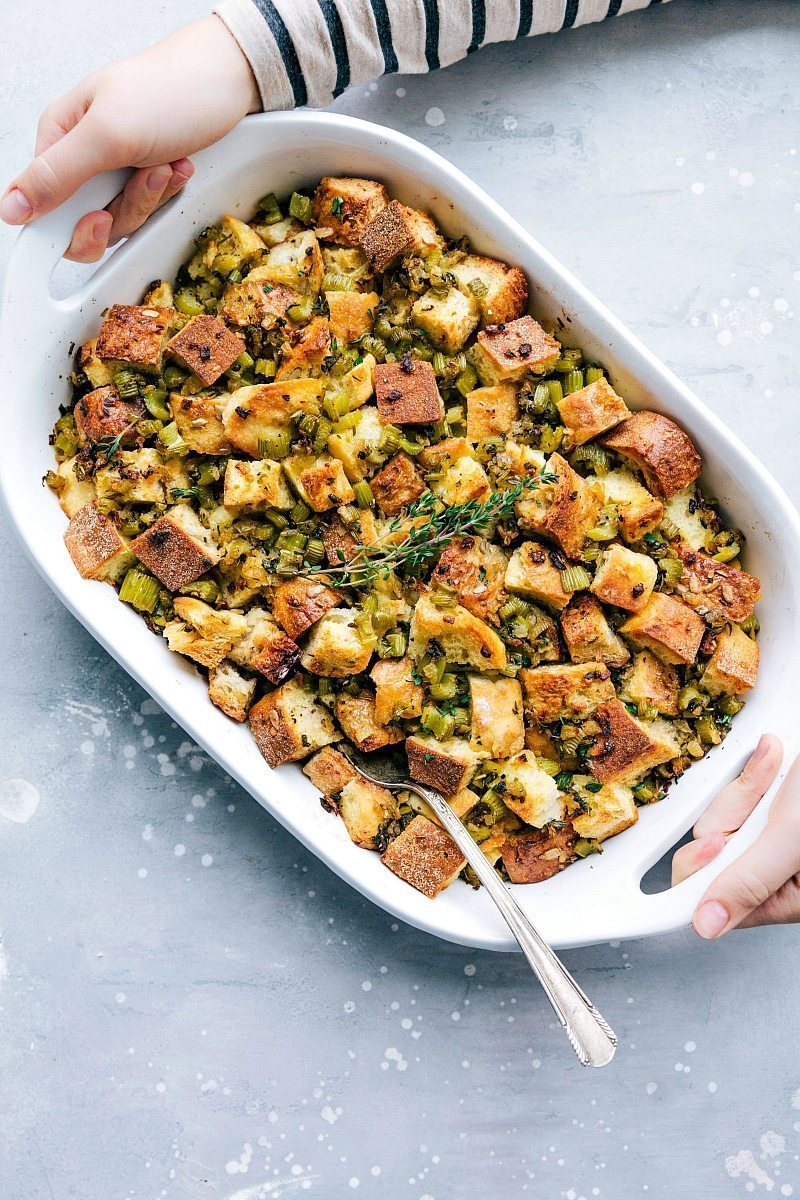 Thanksgiving dressing (or stuffing, if you put it in the turkey) is a must-have for Thanksgiving dinner. There are so many different ways to make Thanksgiving dressing — stuffing it in the turkey, baking it up firm in a casserole dish, adding eggs to give it a more "light and airy" consistency, etc. Some dressings are loaded with tons of ingredients (mushrooms, wild rice, dried fruit, etc.) while others keep the ingredient list simple.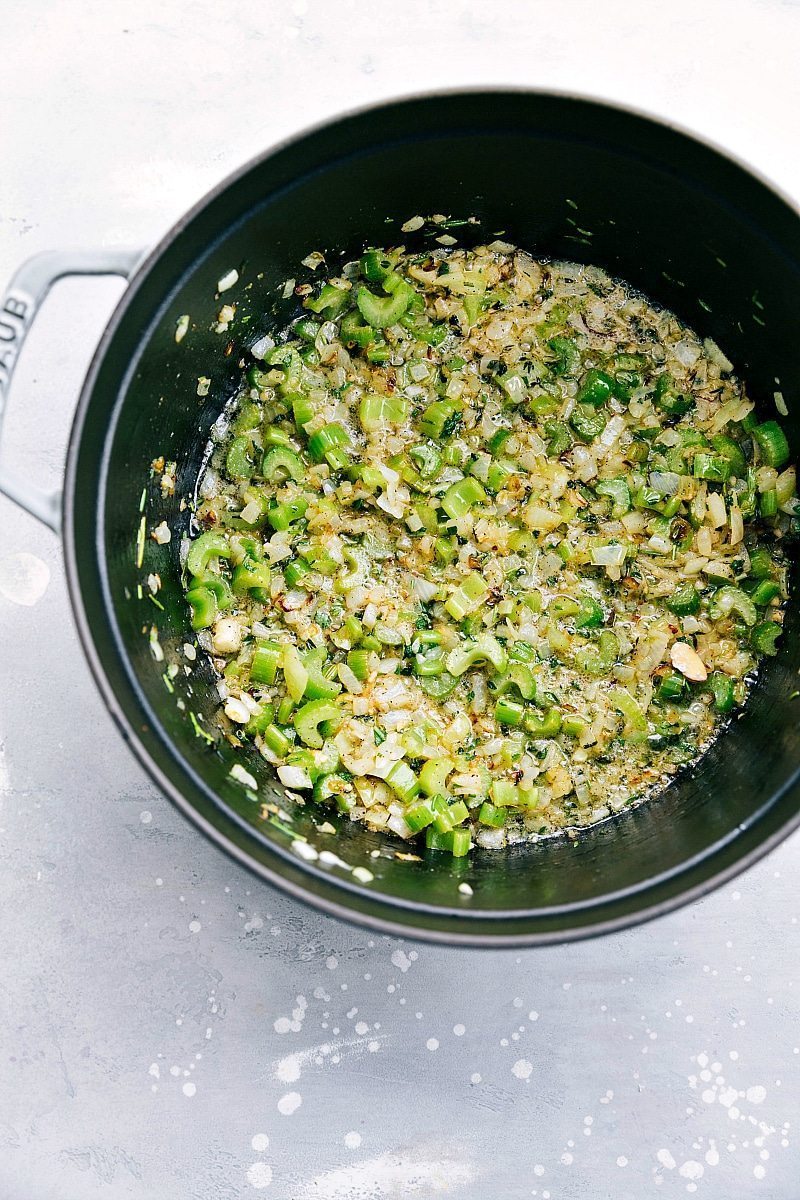 The way I make Thanksgiving dressing comes from the way my family made it growing up. We baked it in a dish and the consistency was medium-firm. The ingredients were simple, the herbs are
fresh, and the bread was always sourdough.
While this recipe is a tad simpler, it's always been wildly popular with Thanksgiving guests. I'm a huge believer in less is more for dressing, and this recipe definitely delivers. Simple, high quality ingredients with fresh herbs makes for a yummy dish.

How do you make homemade Thanksgiving dressing?
First step is to take a loaf of day-old bread and cut it into equal-sized 1-inch pieces, then bake the pieces on a low-heat temperature to dry the bread out as much as possible. The secret to avoiding soggy dressing is to use stale, dried-out bread.
If you aren't able to find stale bread in your kitchen, first give yourself a pat on the back for managing your bread inventory better than me, and second, make sure you give the fresh bread extra time in the oven to ensure it's completely dry.
Next step: cooking onions & celery in butter. The goal is to make them as tender and flavorful as possible!
Once the bread and onion/celery mixture is ready, toss the ingredients together with a good quality chicken stock and eggs.
I emphasize fresh eggs here, because there really is a difference. I use Eggland's Best Eggs to get  superior taste and quality. Eggland's Best eggs come from an all vegetarian hen feed, making each egg full of healthy protein and lots of vitamins and minerals when compared to ordinary eggs.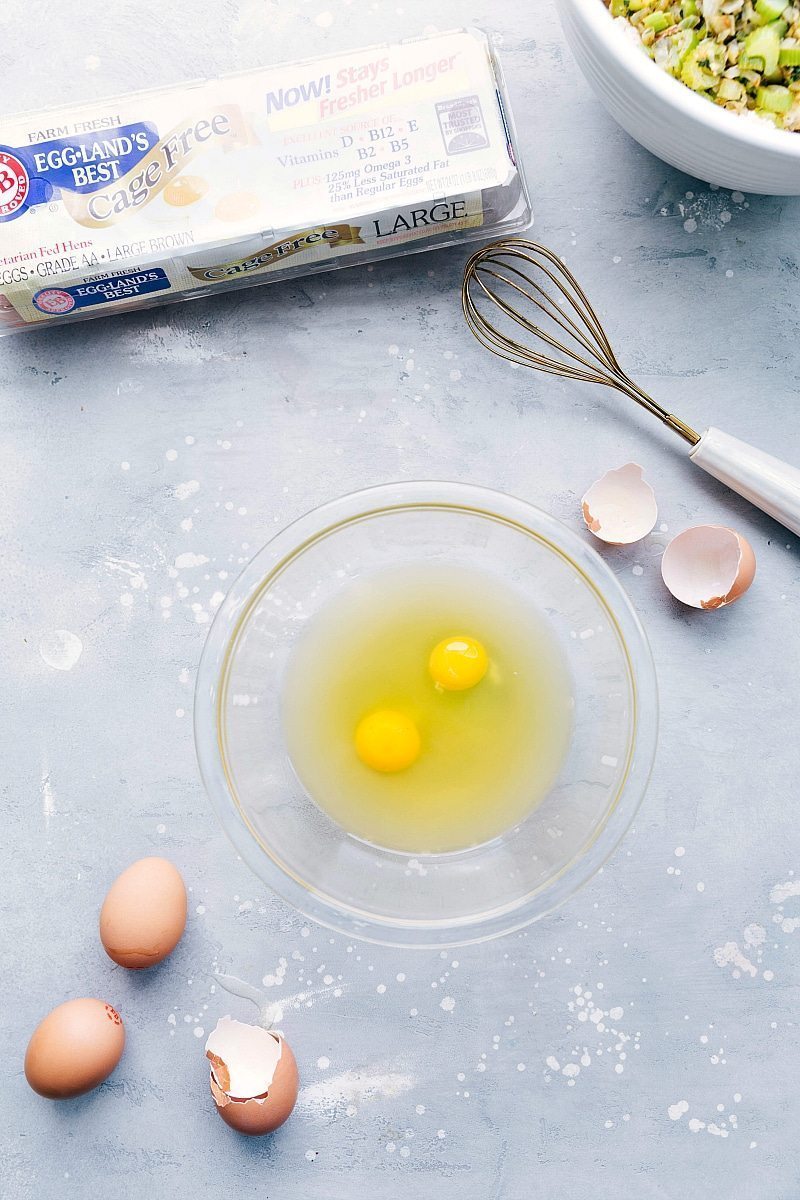 When adding eggs to this Thanksgiving dressing recipe there are a few tips to keep in mind so you avoid getting scrambled eggs on top of the dressing:
Use room temperature eggs: This ensures the eggs disperse more evenly into the mixture and avoids clumping. Soaking refrigerated eggs in a bowl of warm (not hot) water for about 10 minutes is a quick way to do this.
Whisk the eggs into the chicken stock: Instead of just adding the eggs by themselves to the dressing, you'll want to whisk them thoroughly with the stock first. This ensures an even coverage of the eggs throughout the dressing without too much stirring and tossing of ingredients.
Add the eggs right before baking the dressing: you don't want to add the egg mixture to the bread mixture and just let that sit as that will result in a soggier dressing.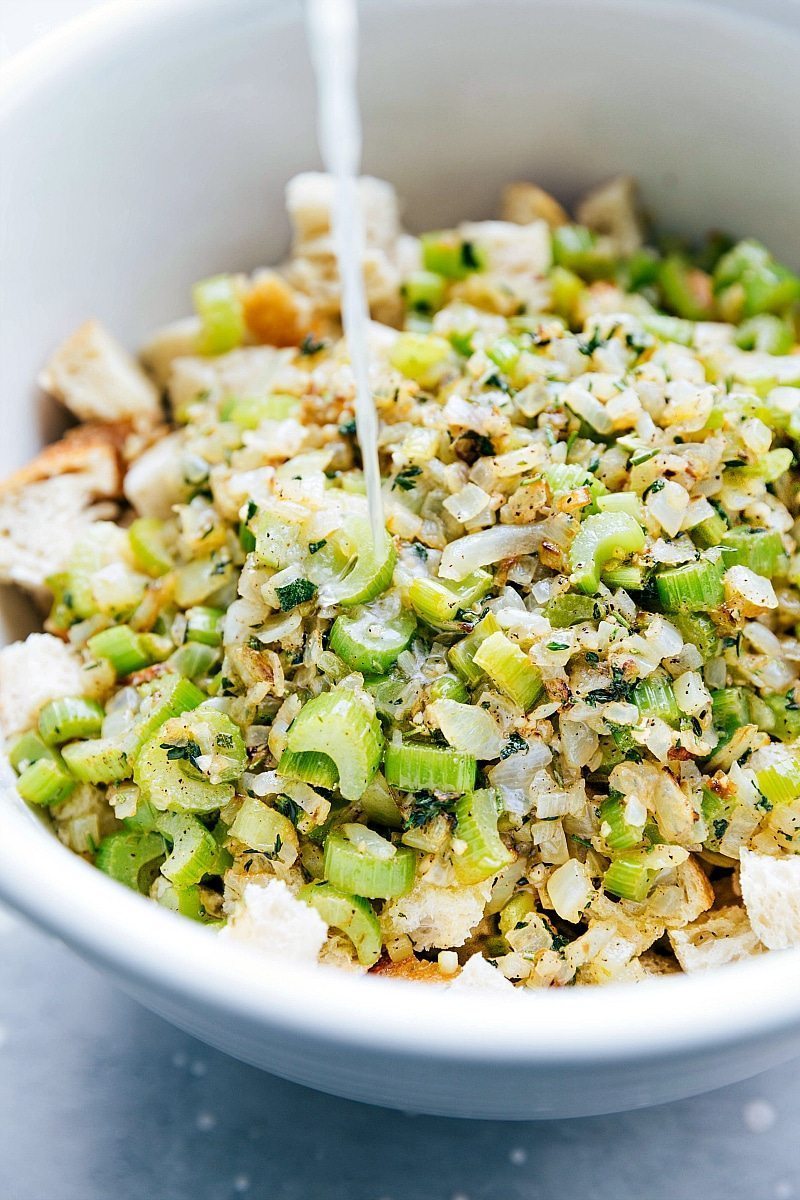 How long do you cook homemade Thanksgiving dressing for?
Homemade Thanksgiving dressing does cook for a while; this particular recipe requires well over an hour of cooking time so you'll want to plan in advance if you have limited oven space.
To cut down on oven time you can dry out the bread (in the oven) in the morning or even the day before.
Can you make homemade dressing ahead of time?
YES! This Thanksgiving Dressing a great recipe to make ahead of time. To do this, completely assemble the ingredients using the steps above, but do not bake it. Instead, cover it tightly and put in your fridge. The next day remove the dressing from the fridge, allow it to come to room temperature, then bake in a preheated oven.
I wouldn't recommend making this more than 1 day in advance.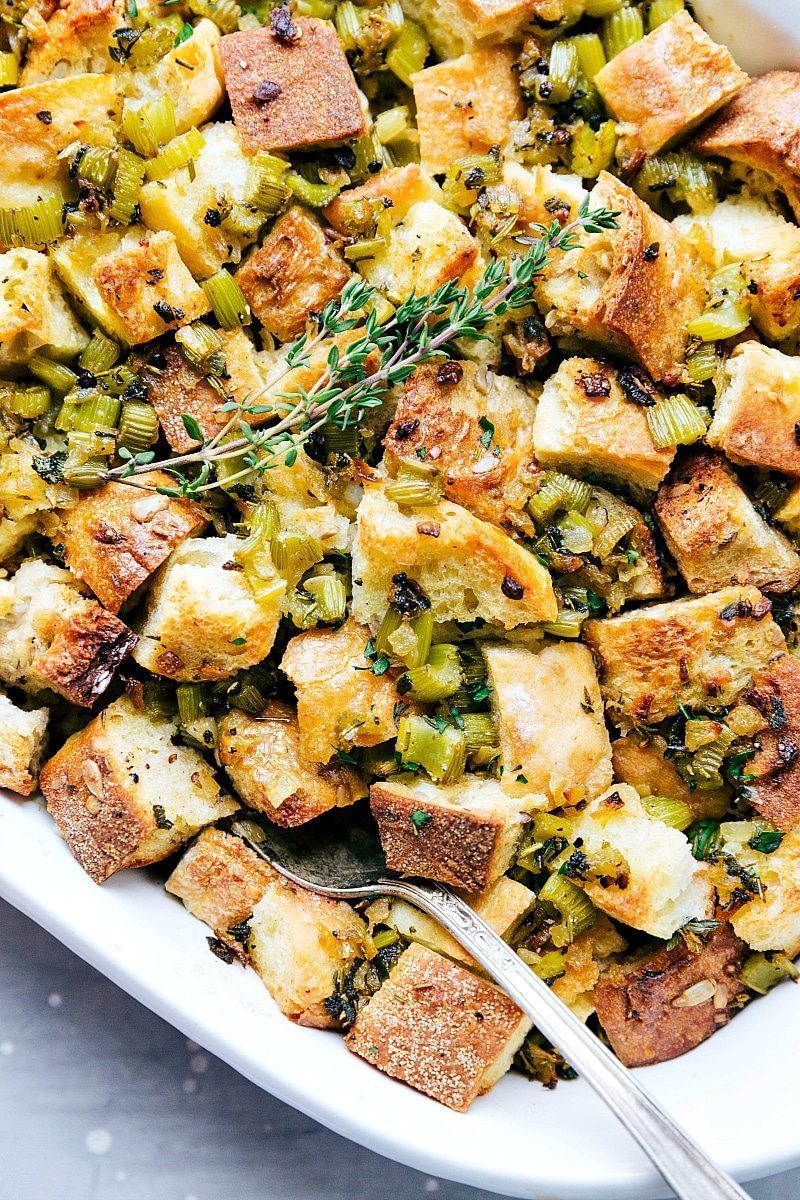 Thanksgiving Dressing
A delicious Thanksgiving dressing packed with the perfect combination of herbs and ingredients
Cuisine:
American, thanksgiving
Keyword:
thanksgiving dressing
Ingredients
1/2

 

cup + 3 tablespoons

 

unsalted butter

10

 

cups

 

good quality, day-old white bread ,

 

such as sourdough or ciabatta

2

 

medium

 

yellow onions,

 

diced (~2 and 1/2 cups)

6-8

 

stalks

 

celery, 

sliced into 1/4th inch thick slices (~1 and 1/3 cups)

1/2

 

cup

 

flat-leaf parsley,

 

finely diced

1

 

package

 

fresh poultry herb blend mix

 (by other packaged fresh herbs in the refrigerated produce section of the grocery store or see notes for individual herbs)

1

 

teaspoon

 

fresh oregano,

 

chopped; optional

Kosher salt and freshly cracked pepper

2 and 1/2

 

cups

 

high quality (low sodium) chicken stock,

 

separated

2

 

large

 

Eggland's Best Eggs
Preheat the oven to 250 degrees F. Generously grease a 9 x 13 inch baking pan with nonstick spray and set aside. Cut the bread into equal one inch pieces and place on a large rimmed baking sheet. Place in the preheated oven and bake for 45 minutes, stirring the bread cubes every 15 minutes, or until completely dried out. Let the bread cool completely and then transfer the bread cubes to a very large bowl.

Meanwhile, melt the butter in a large skillet over medium-high heat. Add the chopped onions and celery. Stir often until just beginning to lightly brown and the ingredients have become tender, about 10 minutes. Stir in all of the fresh chopped herbs: 2 tablespoons sage, 1 tablespoon rosemary, 1 and 1/2 tablespoons thyme, and 1 teaspoon fresh oregano. Add salt and pepper to taste (I use about 1 and 1/2 teaspoons salt and 1 teaspoon pepper)

Add the vegetable + herb mixture to the bowl with the dried-out bread cubes. Add in 1 and 1/4 cups chicken stock and very gently toss all of the ingredients together.

Preheat the oven to 350 degrees F. In another small bowl, whisk the remaining 1 and 1/4 cups chicken stock with the 2 room temperature eggs. Whisk until smooth. Add this mixture to the large bowl with the bread cubes. Fold very gently until all ingredients are completely combined.

Transfer this mixture to the prepared 9 x 13-inch baking dish. Bake for 40-45 minutes until browned and crisp on top (you may need longer if your dressing was refrigerated overnight). Remove and serve immediately.
Recipe Notes
I buy 1 package fresh poultry blend which has sage, thyme, and rosemary. You'll want to have a total of 2 tablespoons fresh sage, and 1 and 1/2 tablespoons fresh thyme and 1 tablespoon rosemary.