Looking for inspiration for your holiday design? Atlanta's Home for the Holidays Designer Showhouse is the motherlode of genius decorating ideas.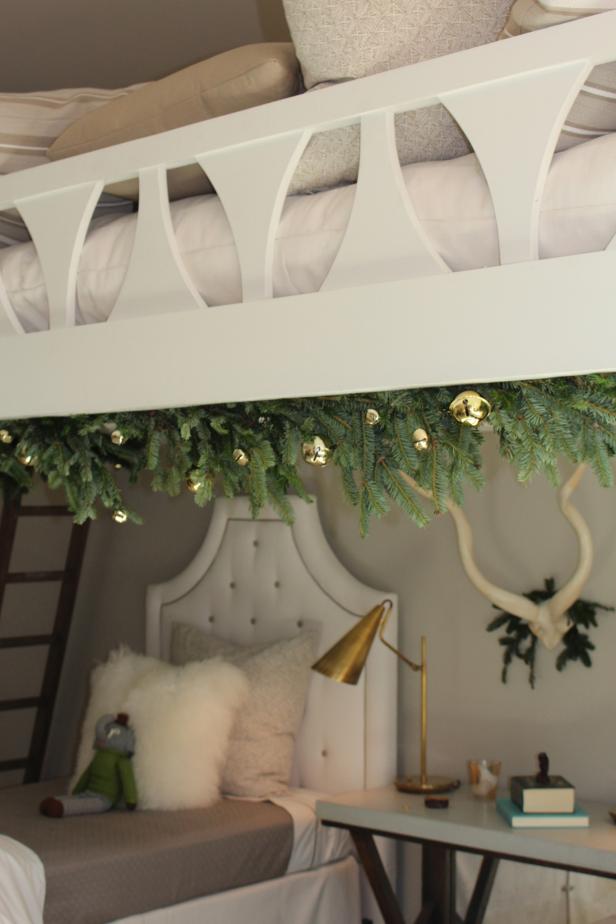 Children like to get into the holiday spirit too, by decorating their rooms. This dreamy hanging glider bed is ornamented with evergreens and Christmas ornaments.
What you won't find in a designer showhouse: elves, effusive red and green and over-the-top holiday tchotchkes. What you will find is a tastefully restrained approach to the holidays that will be a blessed relief from the kitsch that can often accompany the season.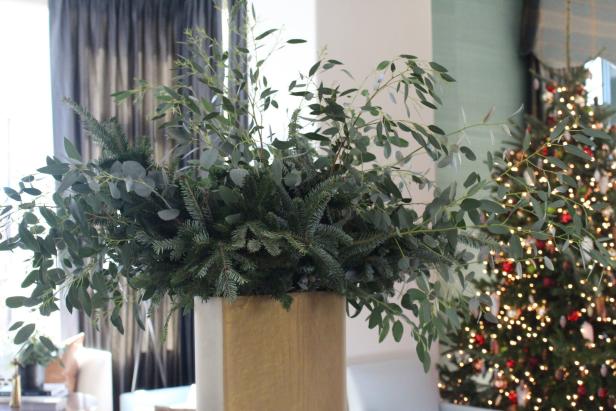 The pretty grey-green color of these eucalyptus and evergreen branches look lovely in a gold vase.
"We don't like to overdo it for Christmas" says Atlanta designer Robert Brown, who designed a kitchen that made me slightly weak in the knees with its enormous windows and dove grey cabinets. He filled vases with eucaplyptus, whose lovely grey-green color and subtle fragrance is an unexpected twist on the usual Holly Jolly hues. Many designers created gorgeous garland swags of eucalyptus and evergreens to ornament fireplaces and staircase rails. Use thicker evergreens for structure and support in vases and swags. Another big natural embellishment: magnolia leaves used in vases and as garlands over doorways. The natural world is often the best source for low-key holiday decor.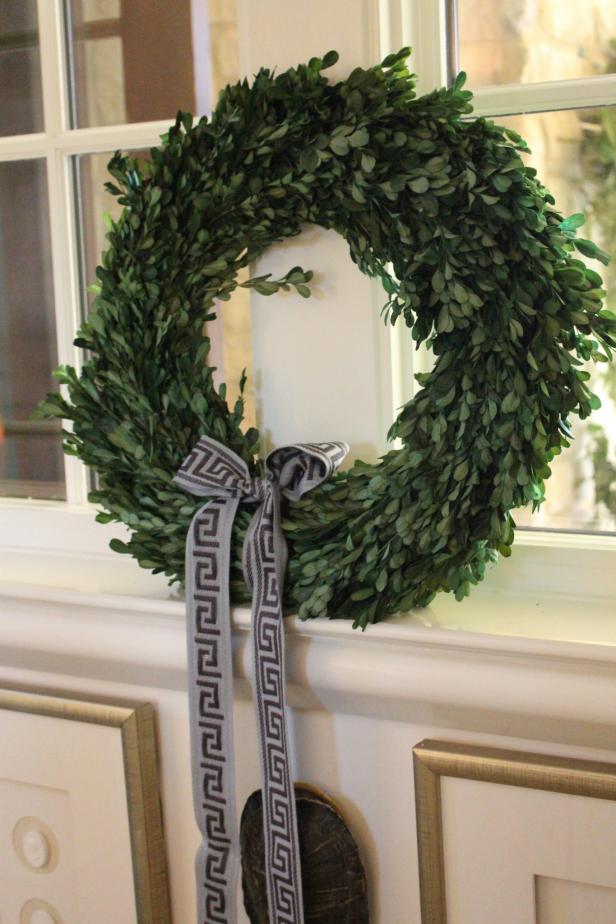 2: Simplified Color Palettes
You'd be hard pressed to find classic Christmas combos of red and green at this showhouse. Instead, designers were drawn to Tiffany blue, icy pastels and kicky combos of Kelly green and electric teal. Ribbon embellishments for boxwood and evergreen wreaths were understated too, with a grey-blue Greek key sash on boxwood wreaths from designer Heather Roberts standing out as particularly lovely.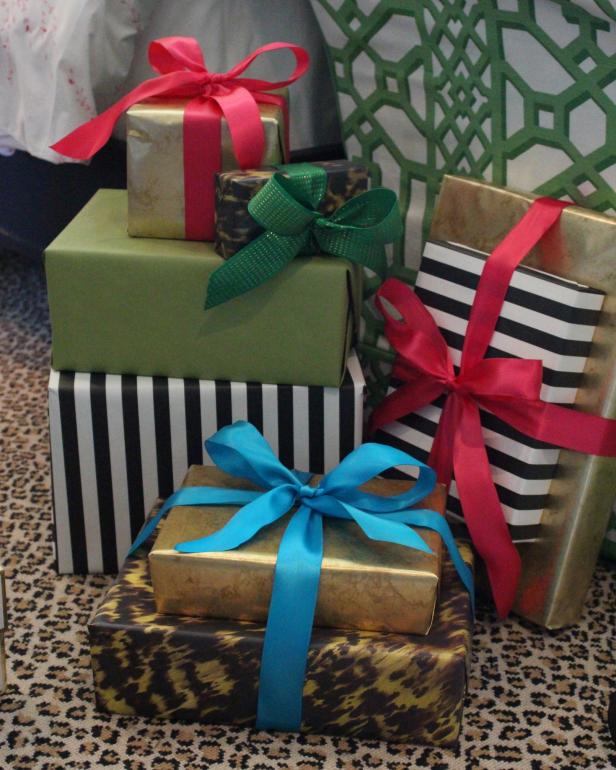 Colorful ribbon and wrapping paper turn presents into holiday decor.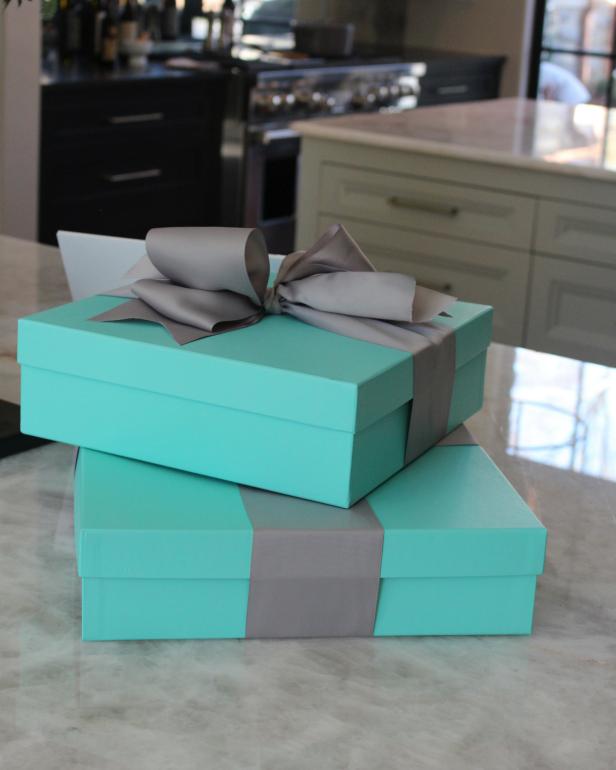 Don't hide your pretty presents under the tree: create anticipation and a festive accent by using them as decor throughout the house.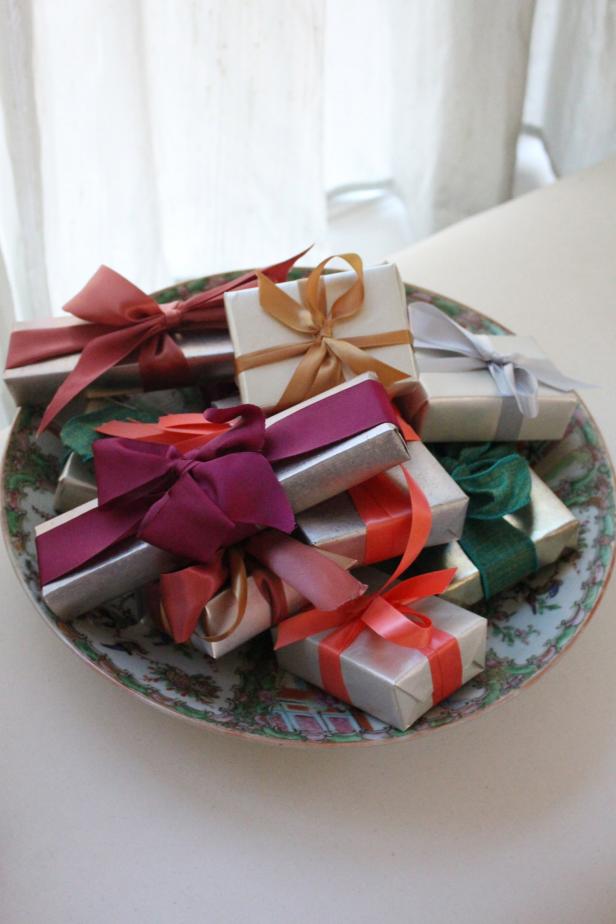 Small wrapped gifts make perfect holiday takeaways when placed in the entry foyer to your home.
3: Wrapped Packages as Decor
Many designers, including Chris Holt, moved the presents out from under the Christmas tree and out into the room. Pretty stacks of gifts in coordinating (but not too matchy-matchy) hues spread holiday cheer and the excitement of pretty packages to be unwrapped to every room of the house.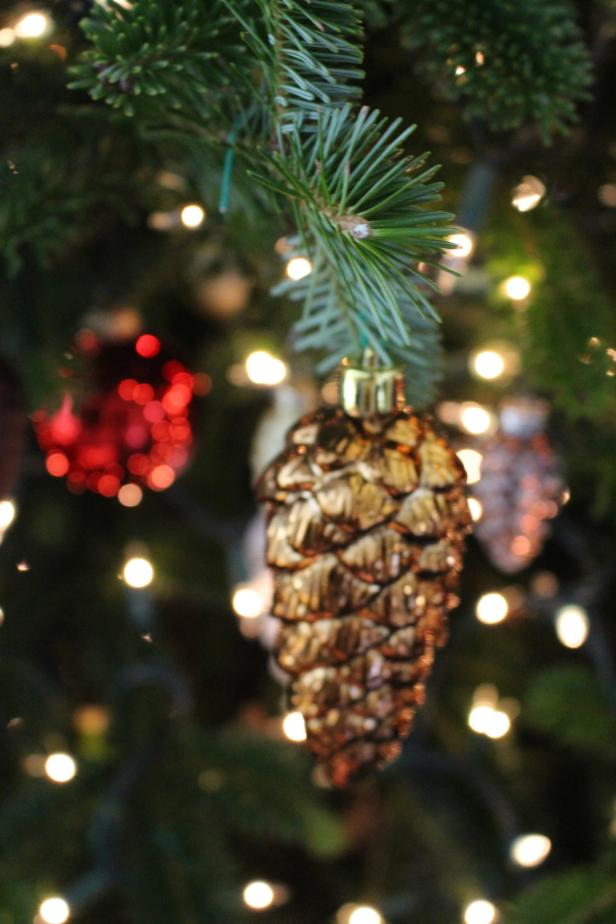 Woodland elements make for great Christmas tree decor.
One of the most imaginative trees was Chris Holt's hip version with pastel globes and silver star baubles placed among the tree like midcentury modern exclamation points. But trees featuring pinecones and owls and other woodland elements were a recurring theme.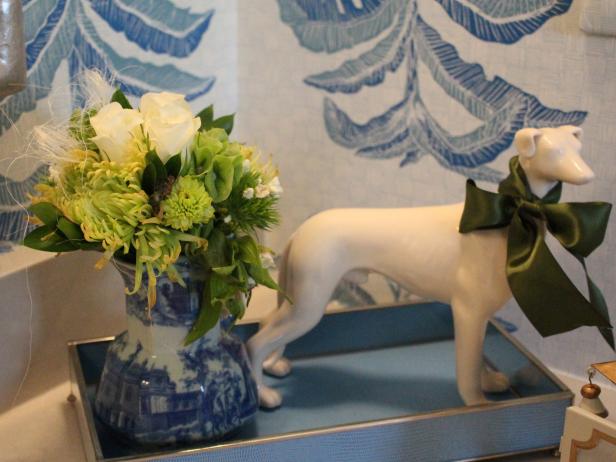 Flowers and a ribbon-festooned ceramic dog lend a subtle holiday flair to this powder room.
5: Understated Seasonal Vignettes in Unexpected Places
Yes, wreaths ornamented many rooms, hung from windows. But just as many designers created a subtle holiday feeling with white flowers or greenery in bud bases and pretty ribbons tied around porcelain baubles to endow powder rooms, guest baths and vanity tables with a low-key festive spirit.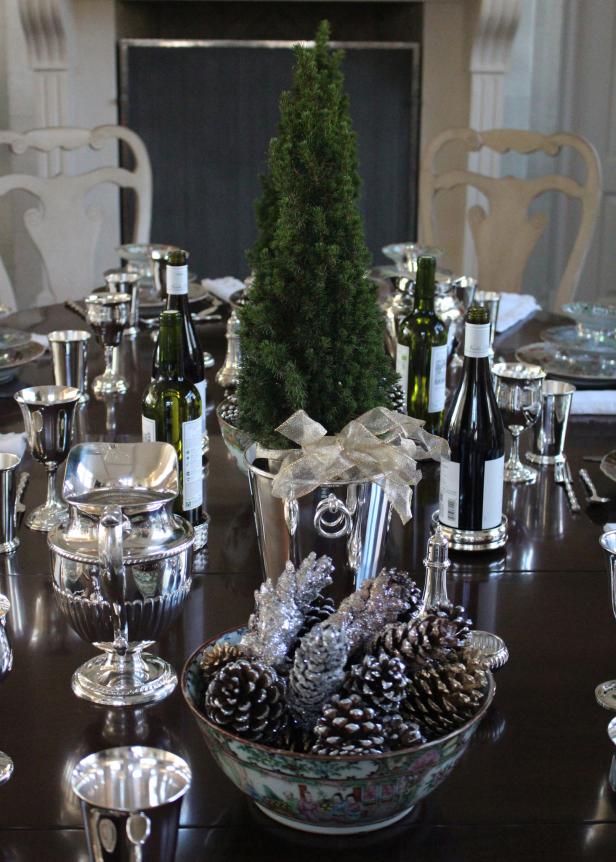 Evergreens in silver champagne buckets add a festive look to this holiday table.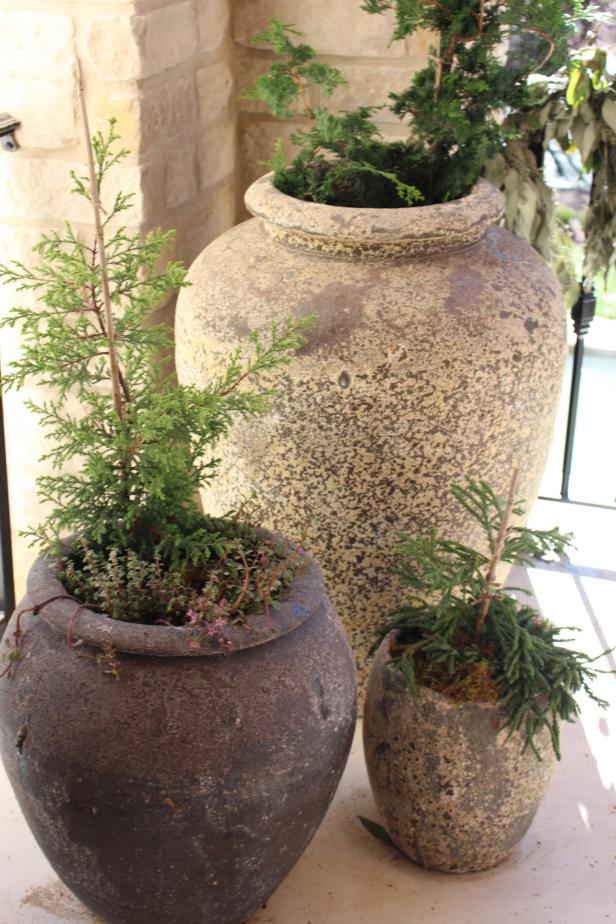 A variety of evergreens in sturdy concrete pots add understated elegance to a porch.
6: Evergreens. Everywhere.
Formed into swags, potted up indoors and out, placed on dining room tables and fitted into rustic galvanized pots, small evergreens lend a Christmas-y feel to many parts of the home.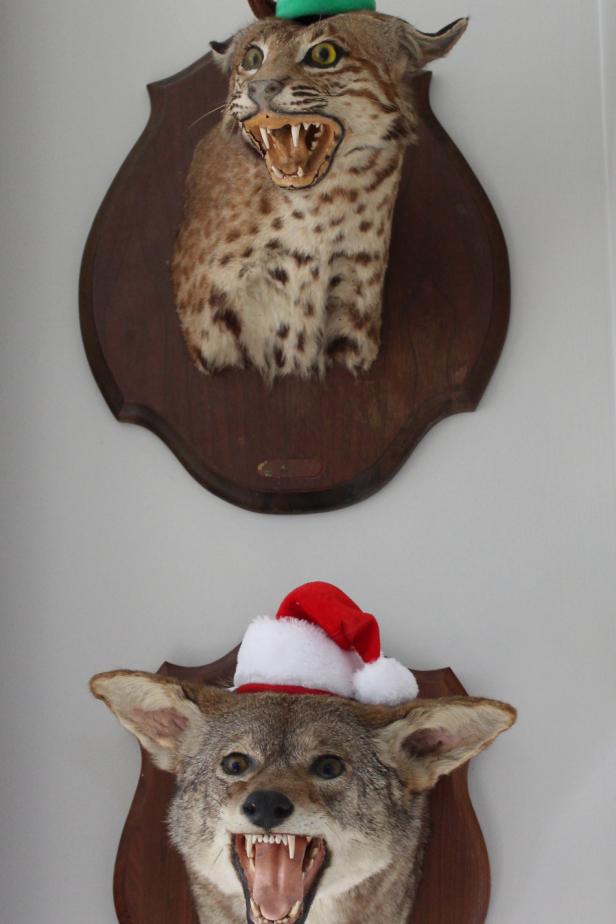 Taxidermy outfitted with Santa and elf hats for the holidays add a touch of whimsy to this elegant home.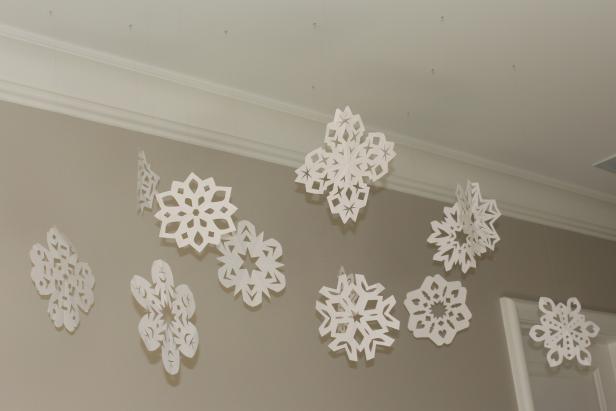 Paper snowflakes hung from the ceiling add a magical touch to a children's room.
Beloved family mementoes, like a kitschy Santa Claus candy dish can add just a touch of whimsy to an otherwise elegant room decked out for the holidays. I loved the cheeky touch Barbara Westbrook brought to her music room with Santa hats placed on taxidermied critters. Very Wes Anderson.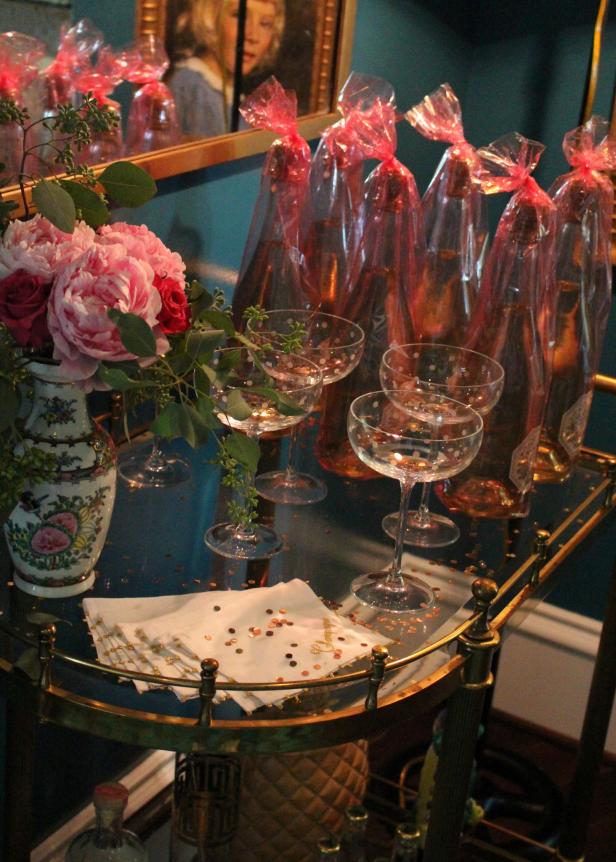 Wrapped bottles of bubbly, glitter and fresh flowers add a festive touch to a bar cart.
8: Decorate Your Bar Cart
Designer Mallory Mathison Glenn used fresh flowers, bubbly wrapped in pink cellophane and a flurry of glitter to give her bar cart a festive touch. Want to create a party-ready mood in any room? Decorators slipped mini-cocktail set ups on trays, on carts, on side tables and just about anywhere to indicate "it's time to party!"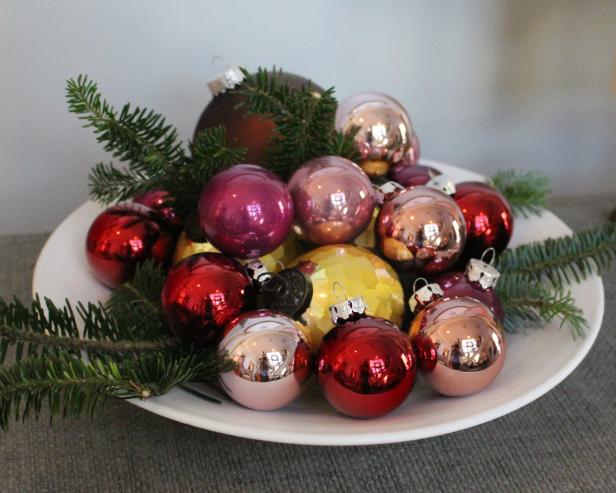 Tired of trimming the tree with every ornament in your collection? Instead, why not use pretty glass ornaments as tabletop decor?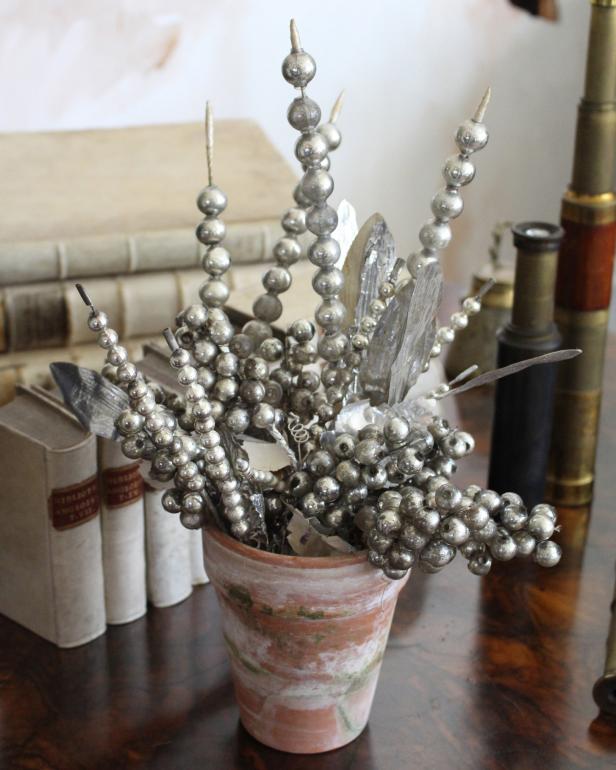 It's lovely to bring the outdoors inside for the holidays, whether with greenery or repurposed terra-cotta pots.
9: Ornaments Everywhere but the Tree
Glass ornaments showed up in bowls and terra-cotta pots, and brought a dose of perky color to many rooms.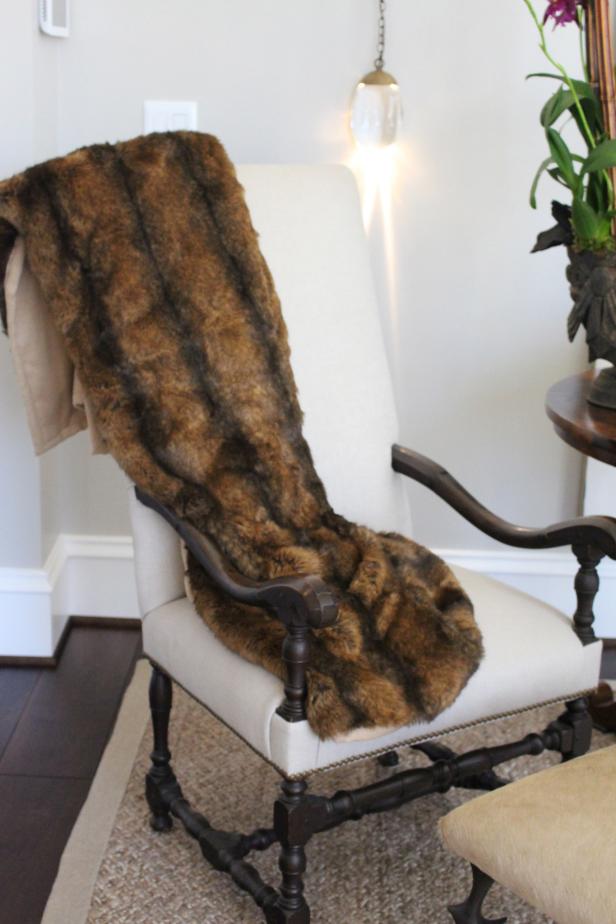 Nothing adds luxury and a cozy, holiday feeling like a plush (fake) fur throw.
Fur pillows, fur bedspreads, fur throws, all made their way into the Home for the Holidays Designer Showhouse and Marketplace. Nothing adds luxury and a cozy ambiance on cold winter nights like a handy fur to drape over your lap.