About Hurricane Spin Broom
Hurricane Spin Broom uses spinning brushes to pick up messes without the hard work associated with regular brooms and dust pans.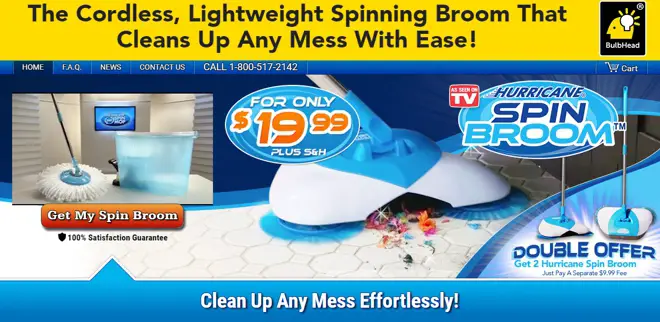 Claims & Features
Lightweight and portable
Spinning brushes pick up mess
Swivel steering
No touch, large capacity dust pan
Good for hard to reach places
Hurricane Spin Broom Review
The "Hurricane Spin" brand should be familiar to many consumers who have likely seen ads for the Hurricane Spin Mop and the Hurricane Spin Scrubber. Now we have the Hurricane Spin Broom, a lightweight manual broom that uses spinning brushes to clean up messes with its built-in dust pan.
The product uses a swivel head, which allows you to maneuver through tight spaces easily, along with a dust pan (which they call a "bin") that will hold your mess to be discarded later. It also features spinning brushes which pull hair, crumbs, and other objects into the built-in dust pan. I found that it does a pretty good job on everyday spills, from dry dog food even to baby powder. Pet hair tends to accumulate in the middle brush, and there is a provided comb that allows you to clean that area of the Hurricane Spin Broom.
Keep in mind that this is not a replacement for a vacuum or even a mop. It is to be used primarily on hard floors and dry messes. Thus, just as you wouldn't use a broom on carpet or to clean up a liquid mess, you also wouldn't use Hurricane Spin Broom for such cleanup jobs.
The Hurricane Spin Broom does a pretty nifty job of picking up dry objects and even hair from hard floors. In short, it works generally as advertised, despite a somewhat "cheap" feel to it. As long as your expectations are realistic, you should find that it gets the job done.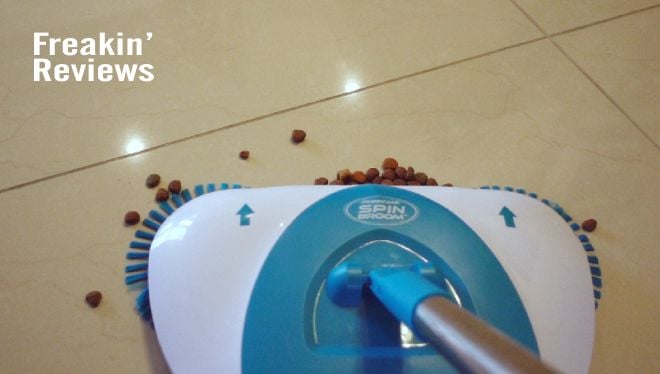 Alternatives
What differentiates a small vacuum and an electric broom can be something of a gray area. A popular product in this category would be something like the Swivel Sweeper Max, a $40 sweeper that also features a swivel head and spinning brushes. That item current holds a 4 star rating among over 1,700 consumers on Amazon.
You can see my review for the Hurricane Spin Broom below.
Television Commercial
Your Hurricane Spin Broom Reviews
Have you used Hurricane Spin Broom? Let us know what you think by leaving a comment below and a star rating above.